YOC Ambassadors
Youth on Course Welcomes Dr. Condoleezza Rice as Ambassador
January 9, 2023 / by Shelley Cain
66th U.S. Secretary of State to join efforts to increase access to golf for young people and raise awareness for nonprofit's work to create a more inclusive and diverse future for the sport of golf.
(MONTEREY, Calif.) – Youth on Course — the non-profit organization dedicated to transforming the lives of young people on and off the course – has named 66th U.S. Secretary of State, Dr. Condoleezza Rice, as its fifth global ambassador.
Dr. Rice joins ambassadors Jennifer Kupcho, Lizette Salas, Harold Varner III and Roger Steele as an official advocate for Youth on Course's mission of providing affordable access to golf and bringing life-changing opportunities to young golfers across North America.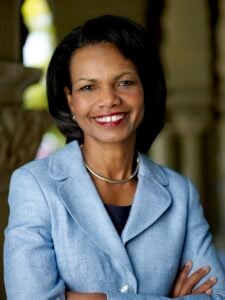 "When young people are introduced to golf, not only do they have the chance to learn new skills but they are exposed to valuable life lessons they can apply off the golf course," says Dr. Rice "I am passionate about ensuring that all youth have opportunities to gain access to this sport, and I'm proud to work with Youth on Course on this mission."
After discovering golf at the age of 50, Dr. Rice enjoys challenging herself on the course and encourages people of all backgrounds and stages in life to try the game. A highly respected public servant and academic, Dr. Rice has been a long-time advocate for youth involvement in sports, particularly around Title IX and the impact that it has on female athletes. Dr. Rice has maintained involvement in amateur and professional sports, serving on the inaugural College Football Playoff Committee and joining the Walton-Penner Family ownership group of the Denver Broncos earlier this year.
"Dr. Rice has been a strong role model for young people throughout her career " says Kathy Wiggans, Youth on Course Board Chair. "Her unique experience and leadership will be a tremendous benefit to our organization, and we are thrilled to have her join our team as an Ambassador."
Youth on Course operates across North America with more than 140,000 active members. Since 2006, YOC members have played more than two million subsidized rounds of golf while the organization has helped generate more than $8 million in tee-time revenue reimbursed back to individual golf courses. In addition to subsidized rounds, Youth on Course puts its members' lives on a different trajectory by providing off-course growth and learning experiences including paid internships, a caddie program, and nationwide scholarships. More than 300 students have been awarded college scholarships to date totaling over $2 million.
YouthonCourse.org | Facebook | Instagram | LinkedIn | Twitter
More information: 831.625.4653.