Youth on Course Impact Shines Bright at the 2023 U.S. Junior Amateur Championships
August 21, 2023 / by Shelley Cain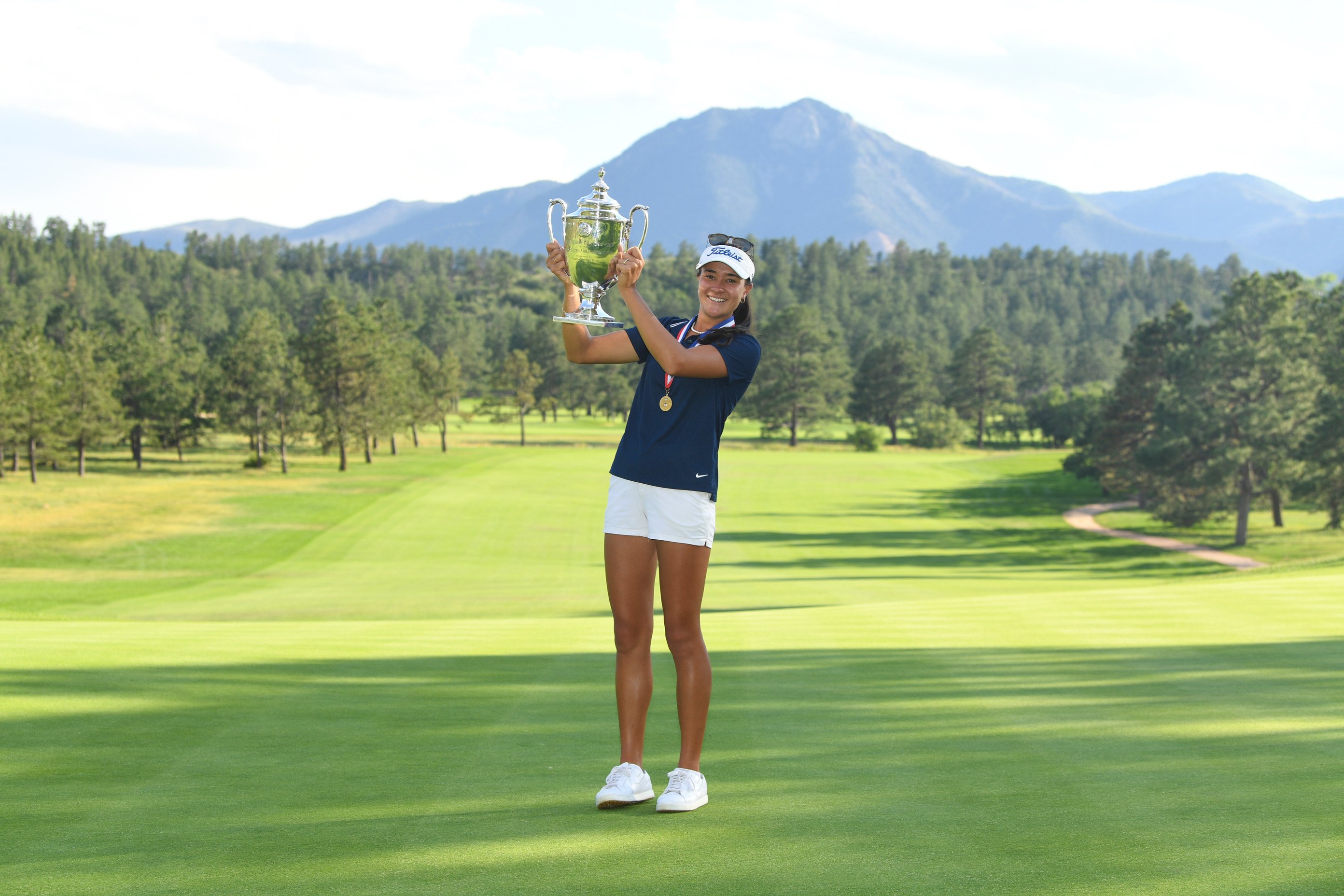 Written by Jason Scott Deegan, Managing Editor at GolfPass
Two talented teenage golfers.
One boy from Maryland. One girl from California.
Bryan Kim and Kiara Romero will forever be linked as 2023 U.S. Junior Amateur champions, the premier championships for boys and girls run by the United States Golf Association for golfers under age 18. Their other tie is a profound glimpse into the future of golf. They're both Youth on Course members who took advantage of $5 rounds of golf growing up to hone their games. Youth on Course, which started as an initiative of the Northern California Golf Association before becoming a 501(c)3 non-profit based in Pebble Beach, Calif., is now helping to produce champions on the regular.
This is the first year the boys and and girls U.S. Junior Amateur champions are both YOC members. The 2022 U.S. Girls' Junior Am champion Yana Wilson is also still a YOC member. PGA TOUR pros Cameron Champ, Justin Suh, Austin Smotherman and LPGA Tour pro Yealimi Noh (the 2018 U.S. Girls' Junior Am winner) also carry the YOC flag as proud alumni.
"Youth on Course helped me become the player I am today," Romero said after winning in Colorado with a clutch 7-foot putt on the 36th hole in the final. "I believe golf is an amazing sport that everyone should have the opportunity to play, and Youth on Course really helps grow the game."
How to get your children playing golf with Youth on Course
Junior golf is no longer only for country club families with unlimited budgets for instruction and fancy memberships. Youth on Course continues to make the game more affordable for thousands of families. Nearly 2,000 courses in every state in America, plus Canada and Australia, allow Youth on Course's 175,000 members to play severely discounted rounds of golf for $5 or less. Junior golfers have played more than 2.6 million rounds of golf to date.
Looking to get your children into Youth on Course? Joining fees vary from state to state but generally cost less than $30 a year and include a student membership to GolfPass. To learn more, visit the organization's website to join.
Although we've never met, I feel a profound connection to Romero because she lives in San Jose and grew up playing the same course where I'm a member - Santa Teresa Golf Club, a Santa Clara County-owned municipal course across the street from my house. It never ceases to amaze me how many young golfers I see practicing on the range and the putting green or teeing it up on Santa Teresa's nine-hole short course. It's a great facility for all ages and abilities. Earlier this year, GolfPass filmed an episode of Home Course Advantage at 'ST' with Liam Eyer, a YOC member who has battled cancer.
Even if you don't have children who might benefit from Youth on Course - mine have aged out - it is a cause worth supporting. Last year, I raised several thousand dollars during a 100 Hole Hike. Thirteen more hikes - the main source of fundraising for Youth on Course - are still available across the country. If you can't participate, at least donate to someone who is. So far, more than half a million dollars has been raised in 2023 with hikes in the Bronx, N.Y.; Oakland, Calif.; Greenville, S.C.; Kohler, Wis.; Thousand Oaks, Calif.; Denver; Houston; Ponte Vedra Beach, Fla.; Pebble Beach, Calif.; El Segundo, Calif.; San Jose; Dallas and Las Vegas still coming this fall.
You never know what future USGA champion or tour pro you'll be supporting.