YOC Impact
A Couple on a Mission to Golf All 50 States and Attract New Golfers From All Backgrounds
August 9, 2022 / by Shelley Cain
Roberto and Teresa Correa are a couple who love golf and play any opportunity they can. In fact, they love the game so much that they're traveling to all 50 states to golf in each state, and stopping at many YOC courses on the way. That's because the couple's mission - to connect with diverse people around the US and show others that golf is for everyone, regardless of race, gender, or socioeconomic background - aligns with YOC. In addition, Roberto and Teresa want people to know that it's never too early or too late to learn to golf. They know this well, as each picked up the game later in life.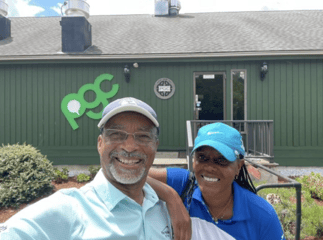 The Couple's Beginnings in Golf
Roberto was born in Brazil, where as a child he played soccer like most of his friends. Growing up, Roberto didn't have much exposure to golf. He explains, "To me, golf was 'like the head of a Codfish' - I knew golf existed, but had never seen or played it for myself." It wasn't until Roberto was 39 and in the US for executive training that a good friend gave him a 7 iron and a pitching wedge. They played weekly at a Pitch and Putt course, and Roberto became hooked. When he returned to Brazil, Roberto found a nine-hole course and played with friends on weekends. Later, when he moved to the US, Roberto continued to play, always working to improve. As he says, "In golf, as in life, no one can be perfect as we're human beings. But no matter where you are, you can always do better!"
Teresa came to golf with an athletic background. She's run more than 15 marathons, and is an avid yogi. Teresa applies the lessons learned in running and yoga to her golf game, and uses her drive, dedication, and focus to improve. These traits came in handy in the beginning, when her right-handed clubs weren't working for her, even after a few lessons. When she realized that as a lefty, she should be golfing with left-handed clubs, everything changed. With those new clubs, Teresa's swing and desire to golf took off. Teresa was even more motivated to golf when pandemic hit and she had extra time to practice. She went all in, taking lessons again. After about 6 months, she was playing 9 holes with Roberto. The more she played, the better she got, and the better she wanted to be.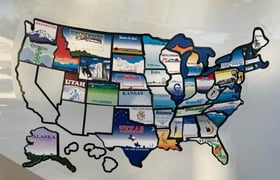 Love of Golf + Pandemic = A Quest to Play in 50 States
Both Roberto and Teresa embraced golf as it was one of the few activities not affected by the pandemic. Roberto explains, "We like to travel and try to play in different places. When the pandemic gave us more free time, Teresa became more interested and started to get more serious about golf. So, we started playing in different places. Suddenly it turned into a project. First, we purchased the RV, which helped since we were still under COVID restrictions and couldn't really travel like before. Then we got the idea to play at 50 courses across the US."
Teresa especially liked this idea, as it provided an opportunity to really get to know the United States and play golf. She says, "I've traveled to Spain many times, and I'm always so impressed by how much Spaniards know about their country. Our trip gives us the chance to get to know my own country better."
Bringing Meaning to Their Travels - Par-fection, The 50 Tour Project
At first, their idea to play golf in each of the 50 states was solely based on their desire to see the US and play new courses. But then Roberto wondered how it could mean more. He thought, "If we posted pictures for our friends and family, maybe our tour could inspire others. Perhaps our story and our trip could help more people, young and old, gain access to golf."
The goal then became clear and"Par-fection, The 50 Tour Project" was born. Preparations began with a goal in mind, "To leverage golf inclusion and diversity programs during our journey in overcoming our limits, staying sharp in the game of golf and game of life."
Roberto and Teresa wanted to reach people who have never considered golf before. They wanted potential golfers to understand that one doesn't need to come to the sport with thousands of dollars worth of equipment. After all, Roberto started with a 7 iron and a pitching wedge. Similarly, as Teresa noted, "I wanted girls and women to know that golf does not mean 'Guys Only Ladies Forbidden.' It's a sport that everyone can play." In addition, the couple wanted to encourage minorities and people of all ages to play.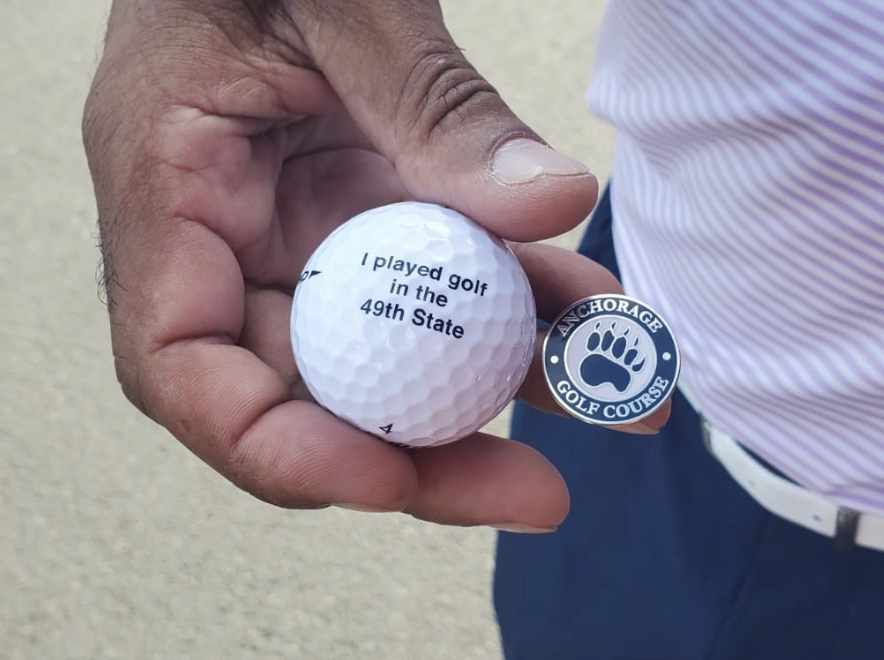 As the idea grew, Roberto started looking for organizations that supported diversity and inclusion. That's when he discovered Youth On Course. "I found YOC and I was so impressed; I thought YOC was absolutely incredible. I contacted them and explained our project. They responded quickly and were so positive and enthusiastic about our mission. We quickly developed a great relationship."
Teresa was also impressed with YOC. She adds, "So many of the lessons taught on the golf course are lessons that help us in life. It's priceless to be able to give young people these lessons while they are learning to golf. This is why I was so interested in Youth on Course and how the program helps shape kids' lives."
Promoting YOC One Mile at a Time
One look at Roberto and Teresa's RV, and their mission is clear. The RV is a mobile advertisement for YOC and the game with its messages, "Inspiring People to JOIN THE GAME" and "Make GOLF your thing" as well as the Youth on Course graphics flanking the sides and back.
Teresa is proud to be able to share YOC's message and talk about the organization, and Teresa sees how YOC helps kids in the long run. "Golf is about ethics, and teaches patience, courtesy, and honesty. You're expected to be honest - this is one of many life lessons that are incorporated into the game. This is why YOC is important because it teaches the values that kids can apply to other areas of life."
In addition, Teresa sees the benefits that golf can offer kids later in life. "Golf is an important skill for kids to learn for the future, from a business point of view. It's a way to meet others, both for professional connections and friendships." Finally, she appreciates how YOC is instrumental in getting girls to learn the game.
"It's nice that YOC was headed by so many women. More women and girls should realize how inviting and inclusive golf is for women. Golf is one of the few sports where your gender is not an issue to play alongside the opposite gender. It's your true effort that determines your game."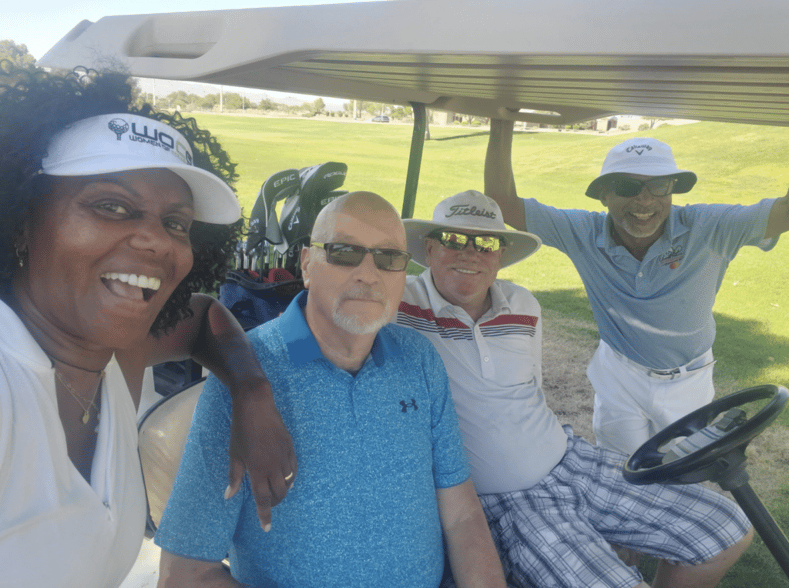 Planning the Route - Roberto's Masterminding
But just how does one plan a 50-state tour of golf? Roberto is the mastermind behind the trip, and carefully mapped the couple's tour so that the distance between courses in each state is never longer than 8 hours. This minimizes hours on the road, giving the couple more time for play and relaxing at campsites. The couple began their journey in March of 2022, in their home state of Florida. Following Roberto's route, they'll wind around the US, stopping at least 36 YOC courses along the way. Selecting YOC courses was important to Roberto, as was choosing public and black historic courses - to show that golf can be affordable, accessible, and beautiful. When all is said and done, the couple will end their tour in Hawaii at the end of October.
Making Great Memories Along the Way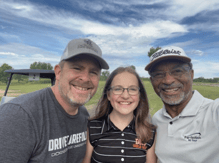 So far, the couple has had countless positive experiences. They're enjoying staying at campsites, where their RV is a sure conversation starter. With its messages boldly stated, it catches the attention of many. When people ask about their tour or their RV, Roberto and Teresa tell them about the organizations they're supporting - YOC, Black Girls Golf, GOLFTEC Cares, and Fun Golf, and how each organization plays a special role in opening the game to a diverse audience.
Their RV has attracted interest everywhere they've stopped, including a golf course in Louisiana, where a senior golfer approached Roberto to ask about their RV. Roberto started to explain their tour to the man, and soon realized who he was talking to. The man was golf professional - Arthur "Ducky" Gilbert - who had played with all the original golfers who had broken down the barriers of the game. Arthur was so impressed with the couple's mission that he waited around until the end of Roberto and Teresa's round, and then invited them to sit down with him and his golf buddies to share golf stories.
Another time, a Walmart parking lot inquiry allowed the couple to tell a curious woman about YOC. They told her how YOC could help her son play more golf and potentially access scholarships. The woman was amazed to learn of the possibilities available through YOC and golf.
Spreading the Word Online
The couple also uses social media to share their journey and understand their why. For Roberto, the reason for their quest is simple. "It's a way to get out there in the world, and make a difference," Roberto explains, and encourages others to get out there too. "It's so good to take opportunities to travel. If we just stay at home watching the news, we think the world is divided. But, if you go out there, you see more good people… people trying to raise their kids, do their work. We have been connecting with so many nice people and have had the chance to share our mission with them. This gives us hope that the world is a much better place."
It's All About Making an Impact
Roberto says, "We'll do whatever we can to spread the word. If we're able to impact one child, it's worth it. This tour allows us to give back for all the things we've received. I'm so very grateful that a simple friend from work gave me a 7 iron to start this journey. Now we're in the stage of life to give back, in the same way."
Teresa feels their tour is more than just an adventure, it's a chance to touch a life. "If just one kid says, 'We saw this RV, and my mom got me into golf because of it.' or 'That girl looked like me because she had braids in her hair too, and I saw I could play.' Then it's worth it. And if those kids saw how golf could help them become a productive part of society… if one kid did that, it would be awesome."
Roberto and Teresa's trip will span 19,000 miles in roughly 180 days. Truly, an amazing feat and an example of how golf is more than just a game - it's a way to link us all together so we can do great things. All of us at YOC applaud every mile, swing, and step Roberto and Teresa are taking - it's truly Par-fect.
To find out more about Par-fection, The 50 Tour Project, follow Roberto and Teresa's journey here:
Youtube channel: "Par-fection 50 Tour"